22 Jun

Outlook Connector v3.6.0 – Multiple Account Support, Automatic Updates and Improved Attachment Handling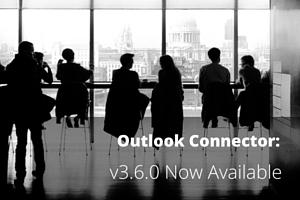 Would you find it useful to be able to see the entries in a colleague's calendar? Perhaps a few of you share a meeting room and you'd like the ability to manage bookings? Maybe you just need an out-of-office responder you can set from Outlook?
Today sees a new point release of Outlook Connector, a highly recommended add-on for MDaemon Messaging Server. It's the part that provides all of the above, plus lots more 'Exchange-like' functionality to help you work more efficiently by collaborating better with your colleagues.
Here are the highlights of this minor update – as always, you can find a more detailed list in the official release notes.
Multiple account support
There's now support for multiple OC, IMAP, POP accounts in the same profile. Send and receive from Outlook with multiple identities using totally independent accounts, each with their own 'sent items' folder.
Improved automatic updates
The current automatic updates only work if the user that is logged into the machine has administrative access to the machine. The new version will update OutlookConnector regardless of the permissions of the user on the machine. This will enable all users (non-administrators) to update OC when it is installed on the server.
NOTE: Initial install of 3.6 or newer requires administrative access on the machine
Improved attachment handling
Outlook Connector will clean up any attachments left on disk that are not referenced in the database. In addition, OC will download message attachments that were previously downloaded but can't be found on disk. OC is now capable of storing the attachments in a custom location. These changes will improve support for roaming profiles.
Download the 30-day trial or upgrade for free (existing customers).
You are of course entitled to a free upgrade to v3.6.0 if your licence is current (you can check here) – otherwise, simply renew your key to both bring your licence up to date with the latest version and reinstate your free technical support.
For full details of every update in this release, please see the release notes.
For a free 30-day trial and the latest installation files see our downloads page.
Happy Upgrading!