27 Feb

New Webinar: Sneak Preview of MDaemon 15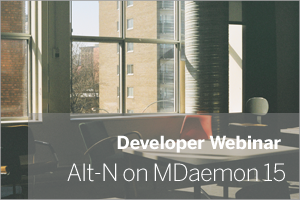 Microsoft Small Business Server was discontinued in 2013, leaving a real niche for MDaemon as lots of small businesses were forced to decide between "full blown" Exchange (as I like to call it) or the cloud and Office365.
It's not a direct replacement – if you use all of Exchange's advanced features you'll most likely find something MDaemon won't do (shared custom category synchronisation springs to mind) and vice versa, but 95% of it's there.
Some pretty competitive pricing and no database to go all skewiff at 4:55pm on a Friday afternoon make it an attractive proposition for smaller companies in particular.
Your Sneak Peek
Well there's not much sneaky about it actually – this is available to the world but that doesn't make it any less worth attending.
MDaemon developer Alt-N Technologies are running a couple of webinars where they'll take 30 minutes to guide you through the latest features, the highlights being…
IPv6 Support
Updated GUI
Virtual Email Encryption for WorldClient
It's mostly the encryption stuff I suspect you'll find interesting – if you can spare 30 mins or so it's definitely worth a look.
How to Register for Alt-N's Webinar
They're actually running a couple – the one soonest is at 9pm our time (GMT) and the one after is actually during the working day. I figure perhaps that might suit some of you – particularly if, like me, your partner will be watching One Born Every Minute. Perhaps it'll be a welcome escape!
Webinar dates and times:
March 10th @ 4:00 PM GMT
March 5th @ 9:00 PM GMT

Don't forget to use the opportunity to ask presenter Brad Wyro any questions, I know our guys always prefer talking to you than just to themselves so feel free to help encourage the more interactive approach if possible!
I hope you find it useful and of course you're welcome to talk to us about the new release at any time – just drop a note in the comments here or contact us using one of the old fashion methods.