01 Apr

Our ultimate 'tricks of the trade' list for IT professionals – Final part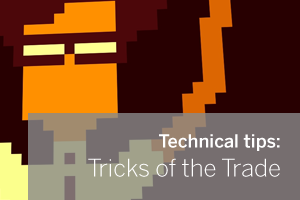 So it's here – we've reached the third and final part of our series of posts designed to arm you with all of the tools you need to survive the minefield that is IT support.
It's time for you to put the knowledge we've provided you into practice and to go it alone.
It's been emotional. God speed.
Our ultimate list is compiled by IT professionals from across the UK.
Free software for saving your bacon
Analyse and benchmark machines (CPU ID) – visit site
Analyse hard disk performance (Crystal Disk) – visit site
Portable tools that have the best from Sysinternals and Nirsoft (KLS Soft) – visit site
IP network scanner with subnet detail (Advanced IP Scanner) – visit site
Manage all of your remote logins in a single application – RDP, VNC, SSH, ICA (MrRemoteEng) – visit site
Free network analyser for Android, iOS, Windows, OS X, Linux (OverlookSoft) – visit site
Install Windows updates online (AutoPatcher) – visit site
Check firewall ports – ping over a TCP connection (Eli Fulkerson) – visit site
Open source key stroke application launcher (Launchy) – visit site
Indispensable how-to articles

Telnet to port 25 to test SMTP communications (Microsoft) – visit site
Reset lost Windows passwords with Offline Registry Editor (TechRepublic) – visit site
Operating system screen grabs to help with phone support (modemhelp) – visit site
Complete list of Google search tips and tricks (Google) – visit site
Unlock Windows 8 'God mode' (TechRepublic) – visit site
Install Windows from a USB drive (InToWindows) – visit site
Web sites you'll want to bookmark
Convert all sorts of media files online (Online Convert) – visit site
DNS lookup with history (DomainTools) – visit site
DiG, nslookup and whois checker for tablets (Kloth) – visit site
List of Malware removal tools (Eset) – visit site
Understand motherboard code beeps (TechNik) – visit site
Sync your time (DefaultReasoning) – visit site
Test Exchange connectivity (ExchangeTest) – visit site
Deploy printers via group policy (PowerShell) – visit site
– – – – – – – – – – – – – – – – – – – – – – – – – – – – – – – – – – – – – – – – – – – – – – – – – – – – – – – –

           Try any of our software completely free for 30-days:
MDaemon email server  |   BackupAssist   |   MailStore email archiver