20 Jan

Our ultimate 'tricks of the trade' list for IT professionals – Part 2/3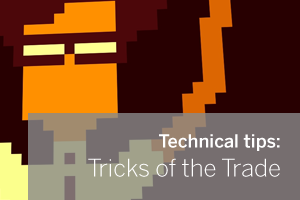 You're well in to the evening and the 'simple' site visit you embarked upon has turned in to a monster can of worms.
Turning it off and on again repeatedly has failed and you've been watching status bars for the best part of the day with no hope of seeing home any time soon.
What you'll take away from this three part series of useful links to free utilities and indispensable articles, may just provide that lifeline in such a situation.
Back by popular demand, behold part two of our ultimate list, compiled by IT professionals from across the UK.
Free utilities to save your bacon
Click in Windows buttons that are greyed out (Windows Enabler) – visit site
Control multiple computers with one keyboard and mouse (Microsoft) – visit site
Brilliant, free SSH client (WinSCP) – visit site
Windows repair tool (tweaking.com) – visit site
Notepad alternative for coders (Notepad++) – visit site
Mount an ISO as if it were a virtual drive (Daemon tools) – visit site
Command line SMTP mailer (Blat) – visit site
RDP to multiple machine at once (Microsoft) – visit site
'Decrapify' your machine! (Decrapifier) – visit site
Keep your settings when you move to a different domain (Forensit.com) – visit site 
Free personal PC auditing for details and licences (Belarc) – visit site
Easy screenshot capture for users (Greenshot) – visit site
How-to guides
Is the Internet working? Check the status – site 1 / site 2
Avoiding the pitfalls of geek speak (techrepublic.com) – visit site
Bring a hard drive back from the dead – last chance saloon! (lifehacker.com) – visit site
The OSI model explained (wikipedia.com) – visit site
How to solve almost any issue known to Microsoft (technet.com) – visit site
Handy control panel commands for the delightful Windows 8 (microsoft.com) – visit site
Change your embedded Windows licence key (bictt.com) – visit site
How to provide excellent customer service (ehow.com) – visit site
20 Windows short-cuts you may not already know (howtogeek.com) – visit site
Just useful links
Gain access to a Windows machine with lost credentials (pcworld) – visit site
Reset Windows update components (Microsoft.com) – visit site
Run two copies of Outlook simultaneously (ExtraOutlook) – visit site
Look up an unknown device in Device Manager (PCIdatabase.com) – visit site
List of malware removal tools (Eset) – visit site
– – – – – – – – – – – – – – – – – – – – – – – – – – – – – – – – – – – – – – – – – – – – – – – – – – – – – – – –

       Try any of our software completely free for 30-days:
MDaemon email server  |   BackupAssist   |   MailStore email archiver