17 Jan

The MDaemon roadshow rolls on to Thames Valley…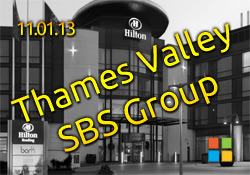 Perhaps 'roadshow' is stretching it a bit, but those of you who visit the blog regularly will probably have picked up on the fact Neil and I have been taking our bumper Powerpoint deck around the country to the various regional SBS community groups.
A little SBSC love
l have to say, these sessions really are fantastic. If you're part of an IT support company I'd highly recommend popping along to your local one to see for yourself what they have to offer.
If you're not familiar with the concept, they consist of representatives from all areas of the business and from companies large and small who are prepared to put in a few hours after work in order to do a little confabulating with their peers over some food and a few beers.
Primarily it's an opportunity to share any particular challenges, get unbiased recommendations on products and technologies each are selling/ using successfully (or not in some cases!), and last but not least, to listen to select vendors like ourselves plug their wares so they're up to speed with the market.
MDaemon as an alternative to Exchange
Because the new raft of Microsoft products (Server 2012 Essentials) no longer includes an on-premise option for Exchange, most support companies are having to give considerable thought to what comes next for customers for whom the cloud isn't a viable option. We've been taking the opportunity to talk about MDaemon as an alternative as it plugs nicely in to Server 2012, does 95% of what Exchange does and offers considerable cost savings.
Hilton hospitality
The Thames Valley group is based at the Hilton in Reading and is hosted and organised by Chris Ward from Hampshire-based Vermont. In addition to the presentation/ demo from Neil and I, the attendees also heard from group veteran and former organiser Chris Timms about the latest developments currently happening with Autotask.
In addition to providing us with bountiful supplies of gourmet cuisine, as always the group was well attended and everyone welcoming. Afterwards we headed back up the M6 full of both curry and useful feedback on MDaemon, plus lots of interest in testing the 60-day trial.
A big thanks to Chris and everyone who attended, I hope you found the session useful and we'll hope to be invited back again if you'll have us.
Interested in attending your local SBS community group?
I'll post separately with contact details for all of the regional groups but for now, please feel free to drop me an email (james@zensoftware.co.uk) if you'd like info and I'll point you in the right direction.