28 Nov

SecurityPlus – Important update for all customers (v4.1.5)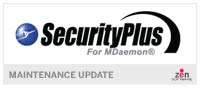 An important update of SecurityPlus has been released and all installations should be upgraded to version 4.1.5 as soon as possible.
SecurityPlus 4.1.5 ensures that it is no longer necessary for the MDaemon server to be restarted when a new Kaspersky licence key file has been downloaded. Without this feature it is possible that licensed versions of SecurityPlus will not automatically restart and your antivirus protection could be disabled until a restart of MDaemon is performed manually. For this reason we recommend that all MDaemon customers who have a current SecurityPlus licence key update to version 4.1.5 as soon as possible.
If your SecurityPlus licence has expired you should either remove the component (assuming you no longer require it), or renew the licence cover and update to version 4.1.5.
To renew your licence please enter it here
If you are unsure of which version of SecurityPlus you are currently running and whether it is licensed; you can check this within the MDaemon software at Security -> Antivirus -> AV Updater -> 'Antivirus Scanner Info'.
If you have any questions about this update please feel free to contact our support team.