You can configure MDaemon to alert you via email when the free disk space on the drive MDaemon is installed on low. To do this :-
1. Open the MDaemon Interface (GUI) and choose Setup -> Preferences -> Disk.
2. Tick "Enable disk space checking engine" and "Send warning to", then specify the email address you want to be mailed and the amount of free disk space the alert should be triggered by as below: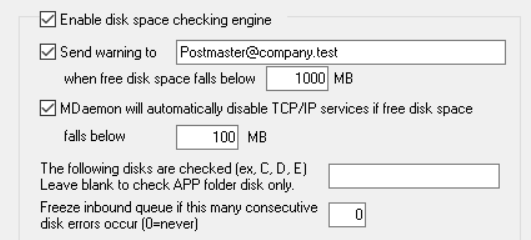 3. In the option above the option to automatically disable any TCP/IP services is also enabled. This is recommended as this will prevent any further MDaemon activity causing the disk to completely fill.