One of the most useful features of BackupAssist is the ability to send emails to specific recipients when media needs to be changed as well as detailed job summary reports. For this feature to work successfully the email server settings must be configured by following the steps below.

1. From the main BackupAssist window open Settings -> Email Server Settings.
2. The Name: and Email: fields must contain relevant details for the sender of the emails generated by BackupAssist. This may be your own details and email address or specific ones setup for this purpose. These must be valid so if you are unsure which details to use please contact your mail server administrator: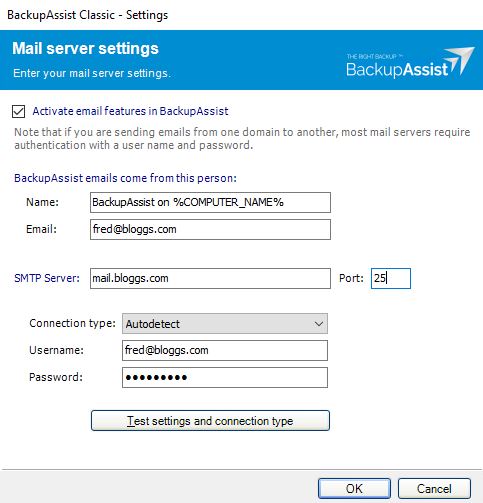 3. Next you should enter the details for your SMTP mail server, this is typically a local or public IP address, NetBIOS name or a fully qualified domain address. If you are unsure of your mail server details please contact your mail server administrator.
4. Local mail servers may accept plain SMTP as the connection type, but if your mail server is an online mail service such as Gmail, Hotmail or Microsoft 365 then you may need to choose an alternative authentication type. If you are unsure choose AutoDetect as the connection type and enter a valid Username: and Password: for the mail server.
5. Next select Test settings and connection type to verify the email server details are correct and working. This will test the settings and if successful will send a test message to the email address entered earlier: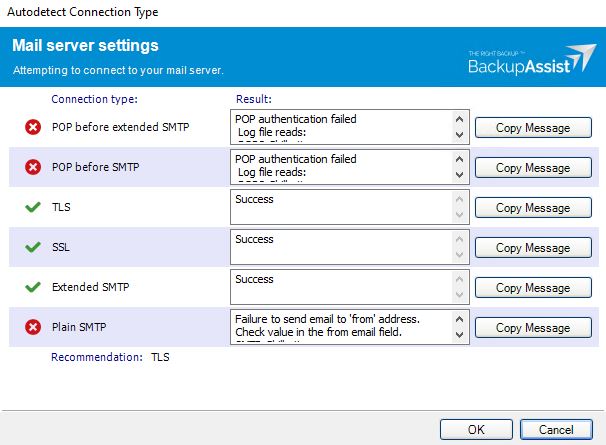 6. After the test has run select OK and the recommended suitable connection type will be chosen. Click OK to finish.
Defining multiple email recipients

1. You can setup multiple recipients within BackupAssist and have them receive different job reports as required. To add an address to this list go to Settings -> Email address list: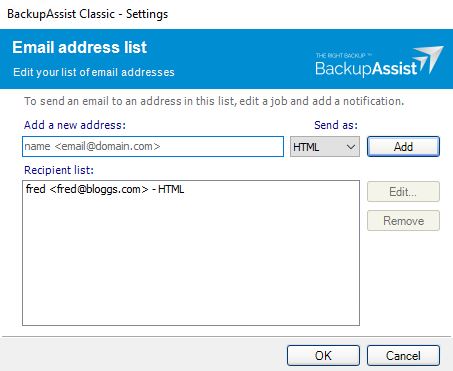 2. Enter the full email address and choose what format to send emails as, then select Add.
3. Choose OK to to finalise these settings.

You can now choose recipients within the Notifications tab of any BackupAssist job accordingly: