BackupAssist System Protection jobs can be configured to run multiple times during the day. This feature has been added to provide a much more recent backup rather than the traditional daily backup. For this feature to be successful your System Protection jobs must complete in relatively short time periods. For example, if you run a backup job every 3 hours between 9am and 9pm the job must not take as long as 3 hours to run. For this reason, it is only an option for System Protection jobs that are using local hard drive destination where incremental imaging is supported. These incremental backups typically finish in under a few hours and so can be successfully run multiple times in a day.
There is therefore a trade-off between how often you wish to perform an image backup and how often you can run a Backup.
In a typical scenario, 3 image backups are run daily at specific crucial times of the day. These times can be spaced as required. In this example, we will choose to run the backup at 6am,12pm and 6pm.
Step 1: Open your System Protection Job from the BackupAssist job window.
Step 2: Select the Scheduling section: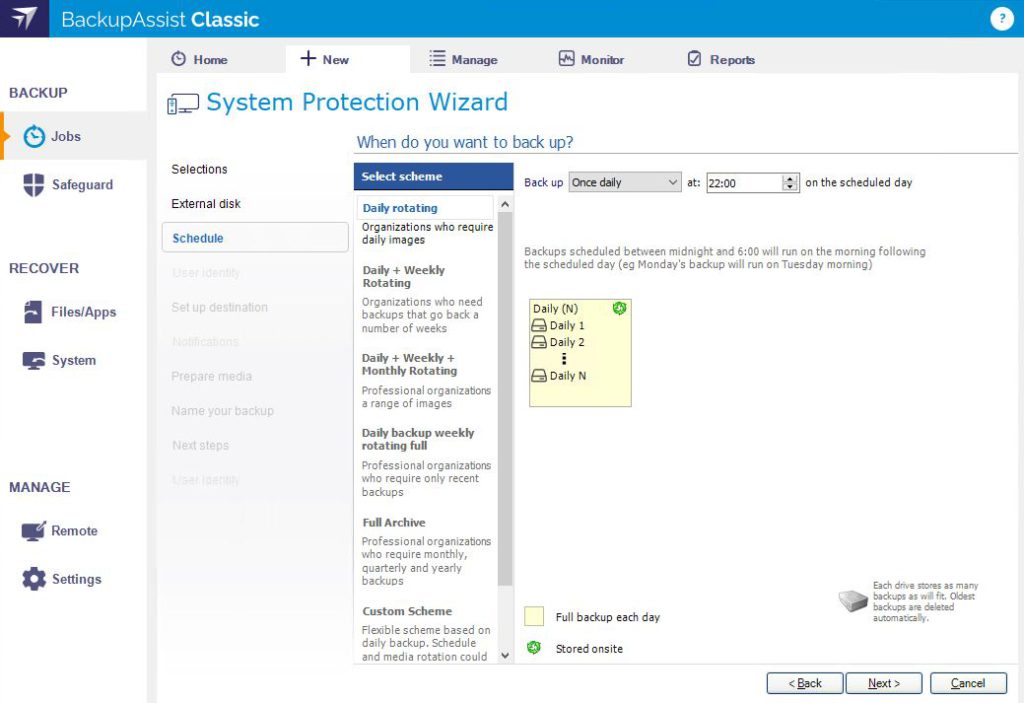 Step 3: Change the Backup Once Daily option to Multiple times daily and select the Change… button:

Step 4:  Edit the backup times by removing any unwanted schedules and adding new ones as appropriate. Once done click OK: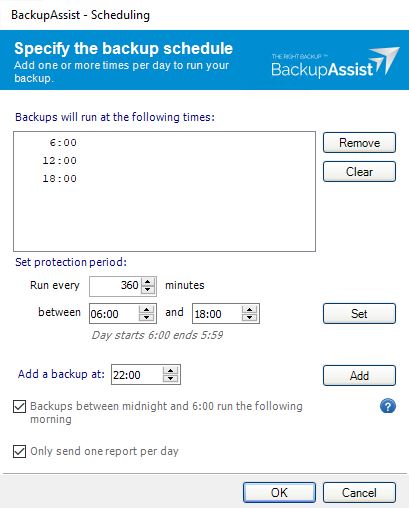 Step 5: Click Apply changes to confirm.
You should see the job running at these times. If for some reason the job has not finished before it is scheduled to run again, it will queue it to run after it finishes, so its worth checking if this is happening regularly in the job reports and if so spread the jobs out further.