24 Jan

Video: Generate Leads, Increase Sales and Maximise Your Margins With Usecure

Keen to introduce user-focused security to your customers but unsure of where to start?

Lacking the time to invest in fancy sales and marketing campaigns?

Unsure if there's really any money to be made with this type of solution?

You're not alone!

We answer all of those questions and more…

Totally fresh to usecure? Check out part 1 of the live series here for a more in-depth overview.
Who are the speakers?
Nihil Morjaria is Head of Sales at usecure and totally immersed in helping partners go from the initial evaluation phase to getting out there and driving interest.
Danny Boyle is Sales Manager at Zen Software and has been working with usecure for long enough that between the two guests, their collective knowledge of helping MSPs covers everything worth knowing!
The core idea
The aim of this session is to help you as an MSP understand what help is available to generate interest in user-focused security, and how taking a few simple steps can quickly lead to creating and converting leads to provide your business with a healthy new revenue stream.
The breakdown
Nihil and Danny brought plenty of really useful tips to this session, let's take a look at the key ones…
It's all about the Human Risk Report – Any time you do anything to introduce usecure to a customer, whether it's a mention in person or some kind of marketing activity, the Human Risk Report is your 'lead magnet'. It's the thing that lets you demonstrate with real data, the risk their business is at now, in a visual, tangible way (watch the demo here).
Business email addresses being used for personal reasons – One of the more shocking pieces of info to come from the 'breach scan' part of the report is where business email addresses are being used that they shouldn't be. It's more common than you'd think so that's powerful info to share with your clients.
Use the recommended spear-phishing template – Many partners will choose their own templates from the library during the risk report stage but the recommended usecure spear-phishing one is super effective (holiday policy change template) so make sure you do use that.
Are staff sat next to one another? – If they're not and they're home working, they might be more at risk through not being able to shout across to a colleague about a suspect email. If they are next to each other, ensure they don't all receive simulation emails at the same time. You can stagger them within usecure.
Your support team is a terrific source of leads – After you've successfully resolved a support ticket is one of the best times to ask about running a free cyber health check. Give support staff a sentence to say before they pass customers across to sales teams.
Who should you target with usecure? Those with Cyber Essentials requirements, any that want the ISO 27001 Security Awareness Training box ticked to impress their clients and win some bigger contracts. Also, any that have had a scare in the past or that are regulated by sector-specific security guidelines.
Don't offer a demo up front! The Human Risk Report is often enough to make the sale, keep a trial in your pocket. See below for more on this…
5 steps for lead conversion
Follow this process to optimise your conversion rate from running the Human Risk Report to getting a sale…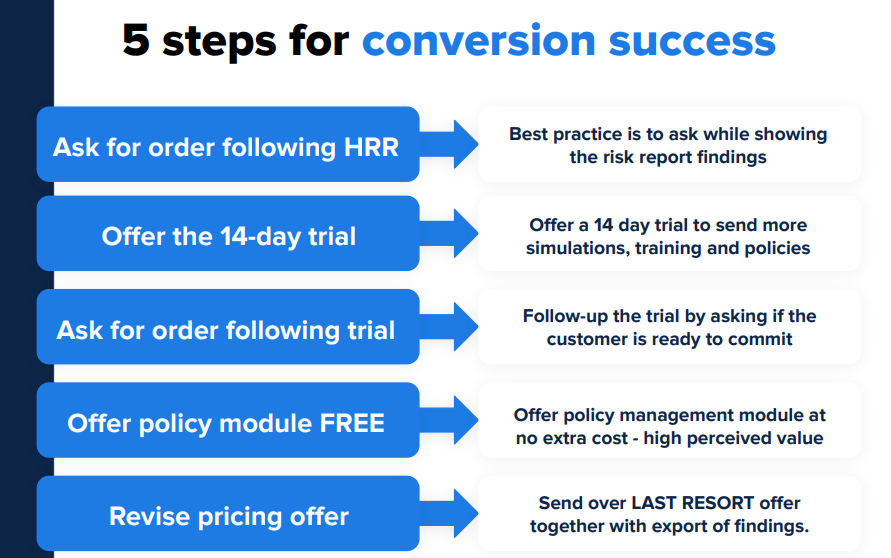 Action points
Get your white-label brochure sorted – A total no-brainer, request a brochure and we'll customise it for you so you can attach it to emails after conversations.
Download the Zen Software marketing bundle (available in Zen's partner portal)

Email Footers
Social Media Graphics
Customer Brochure
Call Script
Email Template
Library of videos

Live Questions:
How long do the breach scans take?
Usually, it is within minutes, the longest it will take is a day. But that's very rare. There is currently work in progress which will mean that it will take minutes irrespective of how big the client is
Can the report be branded with our own branding?
Yes, you can have your branding set as a default and you can also brand it for each individual client to add that personal touch.
Is it possible to add multiple emails to a user account? For example, we've got clients that have transitioned through time from co.uk to .com, so we'd want the breach checks to check both of those.
The risk report is locked to one domain to make it easy to differentiate the data to make sure it's explicit to that company.
You can always set up two human risk reports for the same organisation and get separate results for each. It takes about 10 seconds to set one up, so wouldn't be a big lift.
How much does this cost? And is it an annual fee?
It's just under £1 per month, no commitment, no contracts and you get free NFR for life as well as part of your offering with Zen Software.
You can sell this to as many people as you want, there are no restrictions or thresholds to meet. It's scalable to suit you with no commitment.
Want to learn more about usecure?
usecure, the automated 'Human Risk Management' platform, is a suite of four core security products that when used together turn employees from being a company's primary vulnerability to a highly effective layer of defense. With monthly rolling contracts, no minimum commitment and a free not-for-resale (NFR) licence, usecure has been built from the ground up for MSPs.
– Take a look at the usecure overview on our website
– Watch demo videos of each of the usecure modules