26 Oct

MDaemon Messaging Server – Minor (but important) update now live (v13.0.2)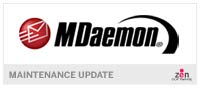 Alt-N have just released an update for MDaemon Messaging Server. It only consists of a couple of minor fixes but they are important ones so we highly recommend you download and install this new version A.S.A.P.
It's worth noting there's an update for every version of MDaemon since version 11 (even if you don't have valid upgrade cover) available on the Alt-N Technologies Web site. I've pulled together the links for each and added them below for convenience:-
To check which version of MDaemon you're currently running, open the MDaemon GUI and go to 'Help -> About MDaemon' and look for the 'SMTP/POP/IMAP server' version near the top of the 'Versions and credits' box.
Offical update notice – http://www.altn.com/Support/SecurityUpdate/