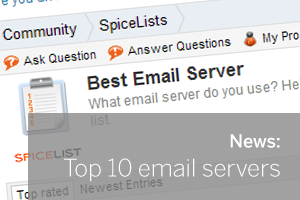 Towards the tail end of last year, Microsoft announced a somewhat controversial decision to call time on the hugely popular Small Business Server (SBS) 2011 – putting in place a phased end of life plan that will see supplies of the last OEM copies exhausted by the end of 2013.
SBS has now been replaced by two flavours of Server 2012 which notably no longer include an email server (where MS Exchange was previously bundled). This is part of a wider global strategy to guide customers who need email towards Microsoft's cloud/ hosted services.
That's all very well for countries like Japan, Korea or Sweden for example, but not everyone in the UK can make the switch even if they want to. Many rural areas still struggle to receive a stable 2Mbps connection which means the cloud is really a non-starter. Coupled with this, if you're not keen on handing your data completely over to a third party, or giving up the granular control a local server provides, it's likely you'll need to start thinking about on-premise alternatives to Exchange.
So what are your options if you can't, or don't want, to move to cloud-based email?
The Spiceworks Best Email Server Chart
Fortunately there are no shortage of options available to you, and the nice folk over at Spiceworks have pulled together one of their now infamous "Spicelists" which covers the best mail servers across all O/S platforms, both hosted and on-premise.
Although Spiceworks are a software developer in terms of their monitoring platform, I should point out that they don't have an email server product and the lists can certainly be considered independent as they're voted for by some of the 2 million independent IT professionals who frequent their busy community forums.
The list below is based the Spiceworks list but any hosted or Linux services have been removed to leave behind those entries for Windows-based email servers software servers only.
The top 10 best Windows-based email servers
1) MDaemon Messaging Server (official site)
2) Kerio Connect (official site)
3) Lotus/ IBM Notes (official site)
4) hMailServer (official site)
5) IceWarp Merak (official site)
6) SmarterMail (official site)
7) Pegasus Mail (official site)
8) Communigate (official site)
9) MailEnable (official site)
10) iMailServer (official site)
You can find the full and unedited Spiceworks Spicelist here.
- – - – - – - – - – - – - – - – - – - – - – - – - – - – - – - – - – - – - – - – - – - – - – - – - – - – - – - -

       Try any of our software completely free for 30-days:
MDaemon email server  |   BackupAssist   |   MailStore email archiver